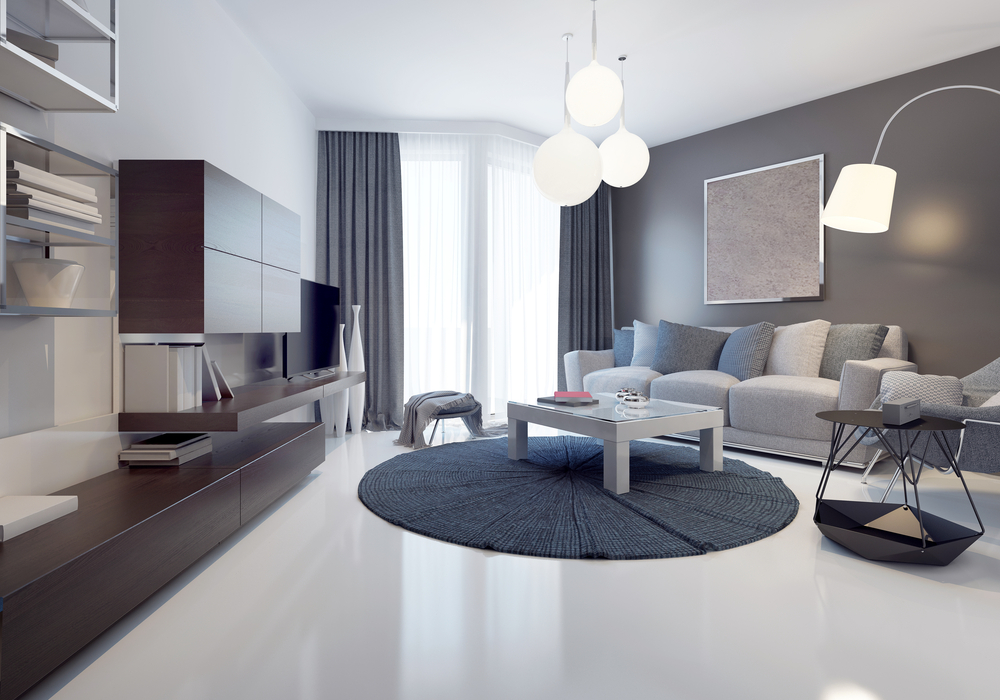 Your house flooring sets the tone of your entire home that completely transforms your space. Floorings are expensive, choosing a flooring option suiting your home décor and budget can be daunting. Currently, concrete polished flooring is trending.  You may be thinking, "Isn't concrete meant for basements and driveways?" Yes, they are. Concrete slabs are great for patios, basements, and garages. They are common for outside structures, but have you ever considered polished concrete in your bedroom, kitchen, and living room?
This flooring is a trending option and has become highly popular amongst commercial and residential spaces.
People are not yet aware of polished flooring made from concrete and how good it is, and it's other added features. We have all your concerns answered here.
What Is Polished Concrete Flooring?
It is a no-wax flooring material. The concrete grinding contractors will grind the surfaces giving it a high- gloss finish that does not require waxing, ever. Heavy-duty polishing machines are used to grind the concrete surfaces to get the desired degree of smoothness and shine. The flooring is super durable and doesn't lose its real concrete form. It is no surprise why modern commercial and residential owners are catching its appeal of these lustrous floors. The most common places the flooring material is used are:
Hotels & restaurants
Auto showrooms
Residences
Retail stores
Warehouses
Office buildings
The flooring is available in different finishes:
Low gloss finish
High sheen finish
Matte finish
High gloss finish
Benefits of Polished Floors Made from Concrete Material
It is a budget-friendly option, allowing customization and is appreciated for its durability and affordability. The benefits of installing them includes:
The Flooring Will Last Forever
This is one of the top benefits of having this floor. Contractors and interior decorators vouch for its durability.  When installed correctly, the flooring is said to last for decades. No matter how much foot traffic it has or heavy-duty industrial application, the flooring can withstand all the extremities. Not vulnerable to damage, it stands the tests of the time.
Aesthetically Appealing
Polished concrete floors have a contemporary look without giving that boring industrial feel to your personal space. It easily blends with your other décor, both modern and traditional elements.
Durability
The flooring is durable and strong, allowing good resistance towards any kind of scratches and chips. It is believed to be non-damageable as the flooring is quite resistant to any toxic mold growth.
Easy to Clean and Maintain
People love polished floorings because they are easy to clean and maintain. They do not easily accumulate dirt, allergens, or dust compared to other flooring options. Your concrete flooring does not require frequent mopping to keep clean and is stains and spills repellent.
Polished flooring made from concrete may look as smooth and glossy, but they are not completely safe to walk unless kept dry and cleaned. If you are worried about slipping, then rest assured it is less slippery compared to waxed flooring or polished marble. Government offices and public facilities witnessing heavy foot traffic, and they adorn this flooring because it is aesthetically appealing, prevents slip and fall accidents.
Budget-Friendly Flooring
Polished floors are extremely budget-friendly compared to other floorings because they do not require installing additional sub-floors.
Where Do the Floorings Look Best?
Polished concrete floors surpass in terms of affordability, maintenance, cleanliness, eco-friendliness, and obviously aesthetics. Enhance your concrete flooring with dyed concrete options. Whether it is commercial space or residential, there is a wide range of color options from gold tones to turquoise, to brown hues and others to choose from. Additionally, for commercial spaces there are customized polished flooring options available. You can choose to improve your brand's identity by adding the company's logo to the flooring.