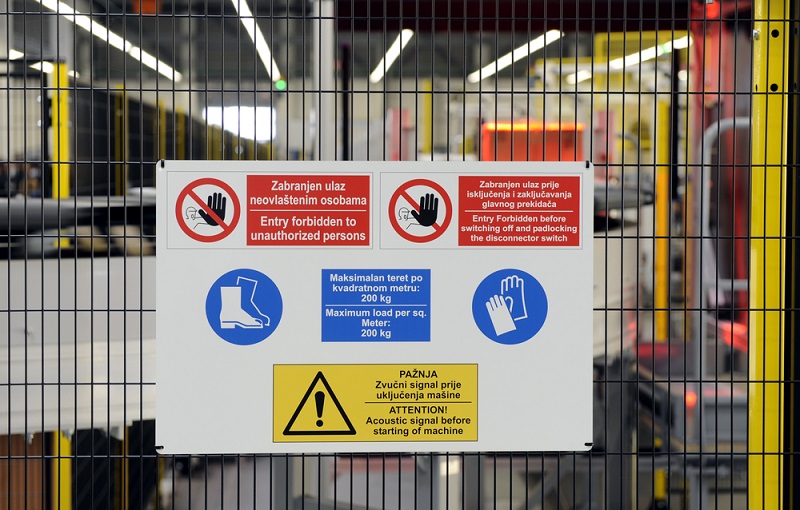 To start or run a business does not always mean to grow and make a profit out of the company. It is concerned with many tasks. The safety of employees is one of the vital responsibilities of an entrepreneur. All workers must be kept out of dangerous situations at work. And one of the best ways to do this is by using appropriate signage. Factory signs are very important, which creates awareness to the employees associated with the business. Signage is not just a picture board. It gives you plenty of information about it. The right factory signs indicate places where footfalls can be measured with safety, so that people do not trip or fall, and there is no sudden fire or electrical hazard. No smoking zone, fire extinguisher and stop looking out for forklifts are some of the common factory signs that you can find.
The Need for Safety Signals in a Factory
Signals for safety play a crucial role in promoting safety and preventing injuries for employees in a factory. The most interesting thing about safety signals is that they are universal and need no special language. Visual communication is an effective means of awareness building. If any company fails to obey and something goes wrong, they may face regulatory fines and severe damage to their reputation.
Knowing the Right Safety Signal Colors:
Like signs, color is a secret method for quick communication. Employees should have an extensive understanding of the colors used in the factory signs.
Red – Red depicts danger, alarm, and prevention. So, it indicates that the premise or hazardous behavior in an area should be avoided or otherwise ordered to evacuate. Example – Do Not Enter, Do Not Touch. In fact, one needs to be extra careful when entering the zones that talk about electric panels and floor slippery when wet. Red is used for multiple areas that require an extra caution.
Green – Green is related to safety and it does not involve any danger. it also used for first aid signs and indicates exits. Examples: First Aid Kit, Emergency Exit, Eyewash Station.
Yellow – Yellow signs are used wherever special attention is needed, particularly in physical hazards. Examples: General Warning, Magnetic Field, Electric Shock
Blue – Blue signs are used to show particular things or a place. It also indicates the employee's obligatory actions and notification signs. Examples: Wash Hands, Safety Glasses Required.
Black and white – Black and White signs are Used to guide the road or tell employees in which directions to go. Example – Go left/ Right with an arrow symbol.
Orange – Orange signs are used to alert people that a machine or equipment contains dangerous parts. Example – Warning, Caution.
How to Improve Safety Signal at a Factory?
In our lives, a safety signal plays a significant role. False symbols and wrong direction can lead us into trouble at any time. With safety in mind, factory signs can be created in a certain way that the message reaches the workers.
The language used in the factory signs must be simple and easy to understand.
The signboard must be visible from a proper distance.
The text description must have eye-catching visual designs.
Educate the employee about the signs and their purpose.
The sign fonts and content should be comprehensive and not difficult
Modify the signs according to the requirement of the factory, but they must match what you are trying to convey.
There should be a strict measure both for the employees and the management, along with the outsiders, where they can study and check the signs and then enter a specific factory area. If you are looking for affordable and durable factory signs then this article helps you to gain knowledge.