Want to relax in the balcony or roof of your house but don't know how to protect yourself and your family members from the excessively harsh climatic conditions, but still do not wish to build a permanent shed on your wall? Then folding arm awnings are the perfect choice for you. The folding arm awnings are a great way to maintain an atmosphere of comfort and style. You can upgrade your property by installing folding arm awnings and you will get more functionality in your house. Being retractable, they can be maintained well in the tough weathers, and even during the storms.
The Types of Folding Arm Awnings
Although there are various sub types of folding arm awnings, all of them can be grouped into three basic kinds:
Full cassette arm awnings

– There are certain kind of awnings which are covered fully when they are opened. This means that the fabric is covered by the head box.

Semi Cassette arm awnings

– There are also certain kinds of awnings which are covered by the head box, but only three fourths of it are covered.

Standard type arm awnings

– The standard arm awnings are not covered by either the bottom boxes or the head boxes. These arm awnings' fabrics lay bare when opened.
The Fabric of The Folding Arm Awnings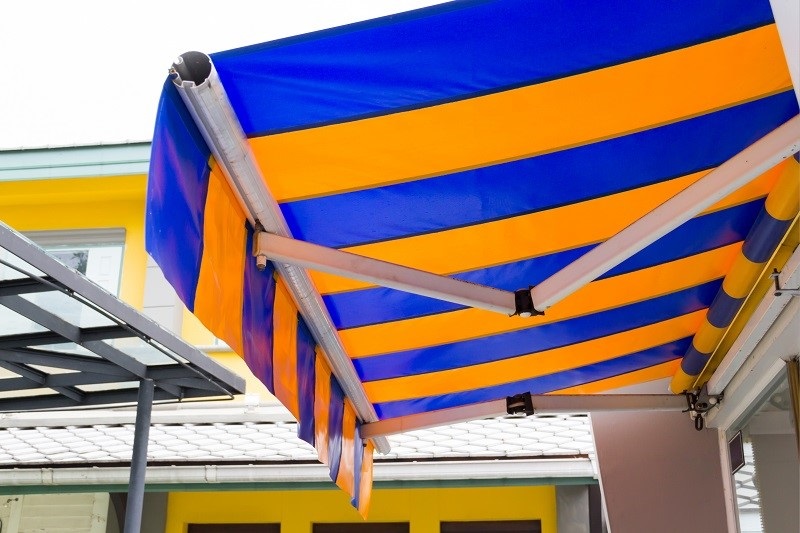 The fabric of the folding arm awnings is also something very essential for many reasons. It is with the help of the fabric that you can ensure the longevity of the awning, as using a poor quality fabric will not only wear off earlier, but will also lose its strength and look earlier than a better quality one.
Also try to keep in mind what color and design you would go for if you buy one. There are some fabrics which are quite bright and glitzy, while there are some which have an earthy look. While the more bright colors are suitable for the new kinds of buildings, the earthy colors are more suitable for the buildings which have an old look, or have huge gardens.
So, while choosing the kind of fabric for your folding arm awning, try to go for whatever suits your house the best.
How Exactly Does A Folding Arm Awning Help You?
There are several reasons why you will be thankful for your decision to install a folding arm awning in your house or office space. Let's look at some of them, shall we?
Protect yourself and your associates – Whether the scorching sun or the occasional drizzles, no one wants to be affected by the sudden weather changes, and a folding arm awning helps to do just that. The arm awnings now also have sensors fitted in them, which help it to recognize the various weather types.
Retractable in nature – The folding arm awnings can be opened when one wand, and can be retracted when the weather conditions turn adverse. This nature of the awnings help to make the house look simpler, and also help the awnings to last longer, as they do not get affected by the storms or the snows that frequently.
Make your house look more stylish – Okay, so you have tried to make your house look as presentable as possible. From planting pretty trees to making pathways and even building swimming pools, you have done them all. However, you can also install these awnings to beautify further, as they come in various colours, and designs.
After reading this article you must have understood that folding arm awnings are very useful if you want to add style and functionality in your property. So, what are you waiting for? It is not long before folding arm awnings will become a necessity in all the houses, so better get one installed today! If you have a restaurant business then you should definitely install folding arm awnings to increase your profits and patronage.