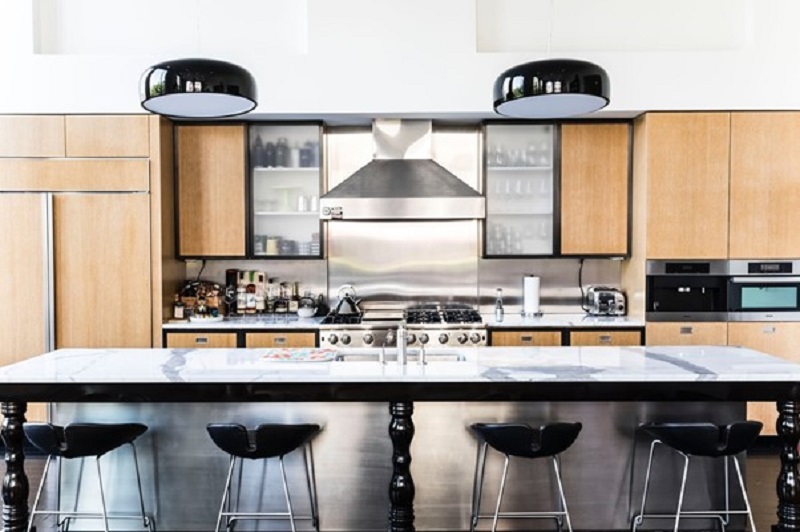 Every person follows trends and popular kitchen design ideas to keep their kitchen modern and relevant. Many homeowners may even have a similar theme or existing pattern that is popularly used worldwide.
However, these trends make fitted kitchen designs too common with many people having the same ideas for their home. Here, using unconventional ideas that no one has used before can help you create a unique kitchen that stands out.
In doing so, an individual can express their personality or uniqueness through their kitchen designs because let's face it – designing is an art by itself.
If you're looking for inspiration, underrated design ideas that are not very popular can be something for you to consider. These ideas help increase the aesthetic of your kitchen while also creating a unique design.
With this in mind, here are a few underrated kitchen design ideas that will elevate your kitchen aesthetic.
Let's take a look!
1. Unique Geometric Kitchen Islands
Unconventional geometric islands have become quite popular, especially in modernist homes. The futuristic and edgy patterns of these geometric islands make them a unique work of art for your kitchen space.
From unique angles and curves to textured materials, geometric islands can be customised according to your preferences. You can opt for high-end luxurious designs or go for fun and quirky patterns; they both will still stand out amongst other kitchen elements.
What's more, you can take this a step ahead and add in bespoke lighting as it can enhance the appeal of your unique geometrical kitchen island even further.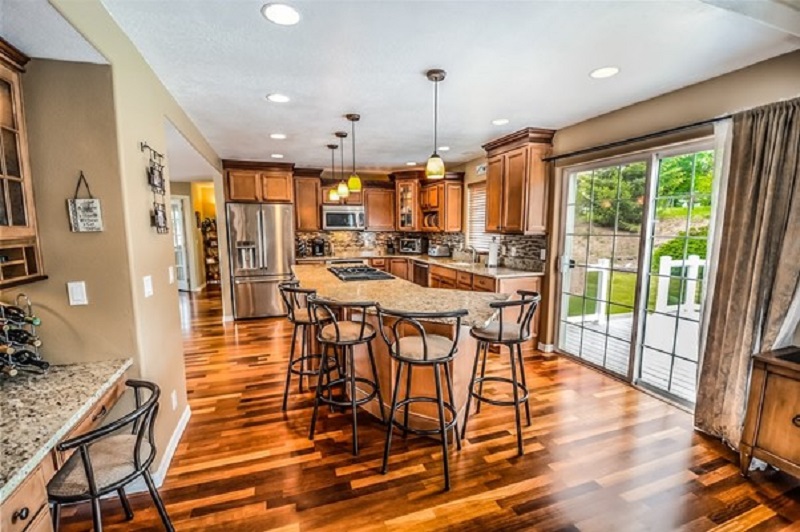 2. Mismatched Furniture
Mismatched furniture can be very expressive and bold; they reflect a strong character and can create a bold kitchen design.
You could use mismatched furniture such as multi-coloured cabinets, dual-toned shelves, bold kitchen islands and vintage chairs for your fitted kitchens.
Additionally, using different colours and types of furniture can also help you create a bohemian aesthetic for your kitchen while also proving to be pocket-friendly.
3. A Black Colour Scheme
Most kitchens follow a stereotypically conventional colour scheme that uses bright or subtle colours. However, opting for a dark colour such as black can create an intense yet edgy kitchen design.
Black and wood for your kitchen may initially seem like an unconventional idea but the stylish appeal and bold design it creates is impactful and intense.  Creating a black kitchen with wooden shelves and cabinets is a truly underrated design idea that looks absolutely stunning in your kitchen.
Add to that, incorporating metallic elements through taps and handles can further elevate the design to create a stylish statement kitchen.
4. A Grey Kitchen
The colour grey usually used for other living spaces can be converted into something more elegant or futuristic for your kitchen to create an underrated design.
An all-grey kitchen can be created through the amalgamation of grey into different kitchen elements. From industrial cement walls, matte finish cabinets, grey tiles and marble grey countertops, there are many ideas available for you. Based on your preferences, you can create a sleek kitchen or a more modernistic and edgy design.
Moreover, you can incorporate stainless steel appliances to maintain your grey colour theme which will surely elevate your kitchen aesthetic.
5. Open Shelves
Incorporating open shelving in your kitchen design is a great idea as it allows you to display your kitchen elements and features. This works great especially for those who want their kitchen to look spacious and organised.
Additionally, open shelves help keep your kitchen more systematic and tidier. Decorating your kitchen by adding in showpieces, picture frames, plants or maybe even creating a herb garden can be done on open shelves.
What's more, you can create shelves out of planks mounted on the walls to save up space and display your kitchen appliances on it.
To Sum Up
Incorporating unconventional designs in your kitchen space can help you develop a kitchen that truly stands out.
Transform your fitted kitchen or refurbish the entire space by incorporating bespoke ideas to upgrade your overall design. Through these underrated design ideas, you can elevate your kitchen aesthetic while creating a unique and original kitchen.