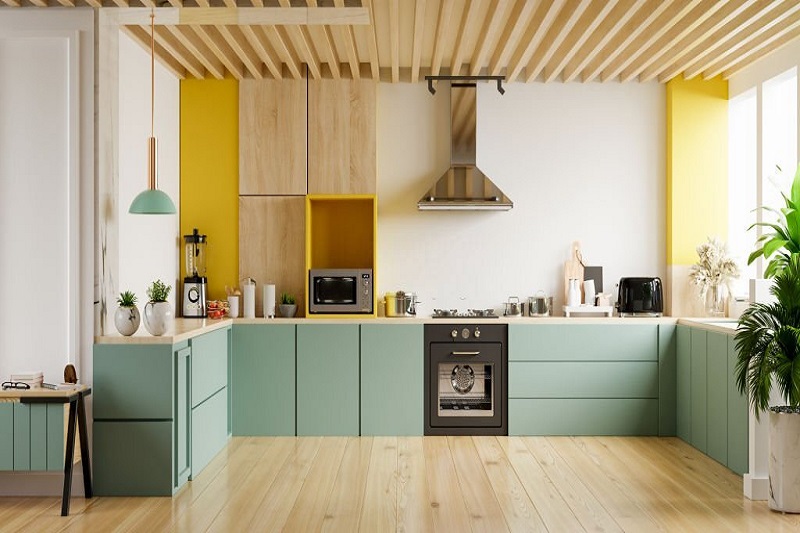 When it comes to home renovation, one of the most important and impactful changes you can make is updating your kitchen cabinets. With so many kitchen cabinet styles available today, choosing the right one for your space can be a daunting task. In this article, we will explore various kitchen cabinet styles, materials, and design options to help you make the best decision for your home renovation. Let's dive in and see which kitchen cabinet style is perfect for you!
Traditional Kitchen Cabinet Styles
Traditional kitchen cabinet styles are characterized by their warmth, charm, and classic appeal. They often feature ornate details, elegant designs, and a variety of finishes that can range from painted to natural wood tones.
A. Raised Panel Doors
Raised panel doors are the most common type of traditional cabinet door style. They consist of a wooden frame surrounding a raised center panel. Often adorned with intricate, decorative detailing, raised panel doors add depth and character to your kitchen.
B. Recessed Panel Doors
Recessed panel doors, also known as flat panel doors, feature a flat center panel surrounded by a raised wooden frame. This style offers a slightly more understated and clean-lined look compared to raised panel doors, making it ideal for homeowners who want the classic appeal of traditional cabinetry without the ornate detailing.
C. Shaker-Style Cabinets
Named after the Shaker-style furniture popular in the 18th and 19th centuries, shaker-style cabinets feature simple, clean lines and minimal ornamentation. With its versatile design, shaker-style cabinetry works well in both traditional and modern kitchens.
Modern Kitchen Cabinet Styles
Modern kitchen cabinet styles are defined by their sleek lines, minimalist design, and innovative materials. They're available in various door styles, colors, and finishes, making it easy to create a unique, contemporary look in your kitchen.
A. Slab Cabinet Doors
Also known as slab-front, flush-front, or flat-front doors, slab cabinet doors consist of a single, unadorned flat panel. This minimalist design lends itself well to modern and contemporary kitchens, as it exudes a clean and straightforward appeal.
B. Glass-Front Cabinets
Glass-front cabinets allow you to display your dishes, glassware, and decorative items while keeping them protected behind a glass panel. This style is ideal for modern kitchens, as it can make your space feel larger and more open.
C. High-Gloss Cabinets
High-gloss cabinet finishes are popular in ultra-modern kitchen designs. The reflective surface of a high-gloss finish not only looks sleek and luxurious but also helps to bounce light around the room, creating a bright and airy feel.
Kitchen Cabinet Materials
When it comes to choosing the right material for your kitchen cabinets, several options are available, each with its own advantages and drawbacks. Some of the most popular kitchen cabinet materials include:
A. Solid Wood
Solid wood cabinets are durable, long-lasting, and visually appealing. They can be stained or painted to achieve a wide variety of finishes and can be refaced or refinished easily to update their look.
B. Plywood
Plywood is an engineered wood product made from layers of wood veneer bonded together. Many high-quality cabinets are constructed from plywood due to its strength, stability, and resistance to warping.
C. MDF (Medium Density Fiberboard)
MDF cabinets are made from wood fibers and resin, making them an affordable and eco-friendly option. MDF is smooth and uniform, making it an ideal surface for paint or veneer.
D. Laminate
Laminate cabinets consist of a substrate (usually MDF or particleboard) covered with a decorative layer of high-pressure laminate. Laminate cabinets are easy to clean, low-maintenance, and available in a wide array of colors and designs.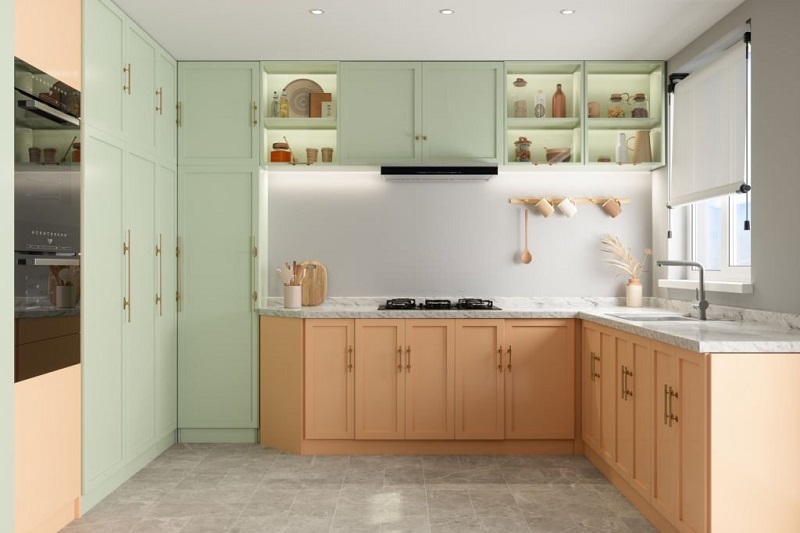 Custom Kitchen Cabinets
Custom kitchen cabinets are made-to-order, allowing you to create a truly unique and personalized kitchen design.
A. Advantages of Custom Cabinets
Customization:
Custom cabinets offer unlimited design options, including specialized storage solutions, custom sizing, and unique finishes.
Quality:
Custom cabinets are typically made with high-quality materials and craftsmanship, ensuring a longer-lasting and more durable product.
Increased Home Value:
Custom cabinetry can add value to your home, making it a wise investment.
B. Choosing a Cabinet Maker
When selecting a cabinet maker for your custom kitchen cabinets, considerations include:
Reputation:
Research cabinet makers in your area and seek recommendations from friends or professional contacts.
Portfolio:
Request to see examples of the cabinet maker's work to determine if their style and quality match your expectations.
Budget:
Obtain quotes from multiple cabinet makers to ensure you're getting a fair price for the work.
C. Budgeting for Custom Cabinets
Custom cabinets can be more expensive than off-the-shelf options, so it's essential to budget accordingly. Factors that can impact the cost of custom kitchen cabinets include:
Material:
The type of wood or material used.
Finish:
The type of finish applied, such as paint, stain, or glaze.
Hardware:
The quality and style of cabinet hardware, such as knobs and pulls.
Conclusion and Next Steps
Now that you're armed with information on various kitchen cabinet styles and materials, the next step is to determine which one best suits your home renovation needs. Whether you're leaning towards traditional, modern, or custom options, you can create the kitchen of your dreams with the right planning and design. Remember to consider your budget, available space, and personal style when selecting your kitchen cabinets. With the perfect cabinets in place, you'll elevate the entire look and feel of your kitchen, making it a space you'll love spending time in for years to come.