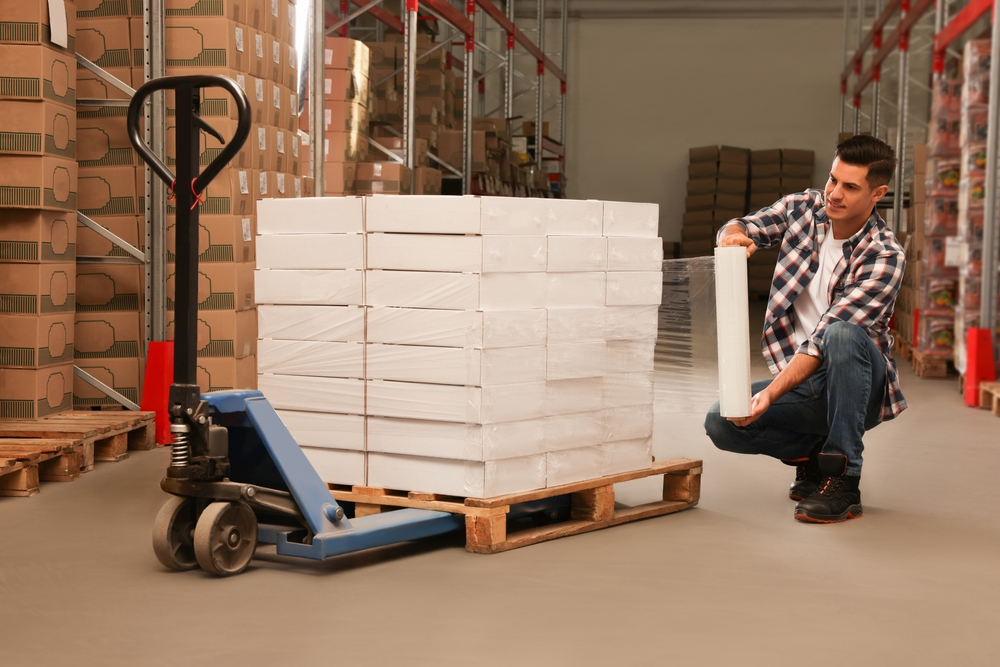 The most common pallet wrapping method is pallet stretch film wrap stretch. In this package, stretchable plastic film is utilized to protect your items from external harm. Pallet stretch wrapping machines, which may be used to wrap pallets and containers, can be found online. Stretch films can shield your items from moisture, heat, and corrosion. During any moving or transition process, your items might be damaged by sea air and dust. Therefore you can use stretch films to protect them.
A pallet stretch film wrap is often utilized in the heavy engineering, pharmaceutical, electrical, and chemical sectors. Aside from that, food sectors such as fruit pulps and grains utilize similar films for packing and shipping. These films are also used to pack fertilizers, liquids, lubricants, paint, powders, activated carbon, and granules.
What is the purpose of using pallet stretch film wraps?
A pallet stretch film wrap is used to wrap and fasten goods on pallets. Assisting in the reduction of product loss, load tampering, and worker harm. In our blog article What is Stretch Film Used For, we go into more depth. Stretch film comes in a range of widths, thicknesses, and kinds.
A pallet stretch film wrap may protect your items from external impact and allow you to export them without harm. UVI stretch films may be used to keep your products outside. You may need to store your items in an open location for an extended length of time, or you may need to store them in various warehouses during their journey. In this scenario, UVI stretch films can be used to protect your items from UV rays. Apart from that, these films might help to minimize pilferage and protect your items from dust, moisture, and filth.
Comes in a reasonable price

A stretch film wrap can be an ideal optionyou need a low-cost packaging option for your pallets. You'd have to spend a lot of money on strapping, corrugated boxes, and heat-resistant films, but you can save money by utilizing pallet stretches. You will get the same service as with shrink wrapping. Furthermore, as compared to shrink wrapping techniques, these stretch films use less electricity.
Highly efficient
You can control your inventory by utilizing stretch film wrap for your pallets, and you can enhance your business's efficiency with complete transparency. These stretch films may be used to load pallets and can be scanned using optics. You may also utilize them based on the weight of your items.
Recyclable
The best about a stretch film wrap is it recyclable and environmental-friendly. After usage, these films can be recycled. You may bend these films to fit the size and kind of pallet you have.
Pallet stretch film wraps of many sorts are available on the market, including UVI films, VCI stretch films, roll-wraps, bundling films, wide web pallet stretch films, stretch wrap nets, top sheets, anti-static wraps, and heavy gauge films. You can select the ideal one based on your company's needs and the nature of its goods. If you are unsure, you can contact the manufacturer or a dealer to help you pick the best one. You may find such vendors online and read their reviews to choose the finest one.
Conclusion
When choosing to buy a stretch film wrap, you should always consider checking out your budget. For example, you may purchase a pallet stretch wrapping machine for in-house packagi ng or outsource your packaging needs to a reputable business.
If you buy the film wraps in bulk, you must have a pallet wrapping machine installed in your warehouse. You may safeguard your items from exterior climatic difficulties by using pallet stretch films for packing. It is critical to delivering your items in good shape because it affects your company's reputation. So, don't utilize inexpensive materials for your pallets and instead use stretch film wraps.