Ladies, we love our summer style, but once the summer dies down and the winds pick up it can be hard to figure out a balance. You want to stay comfortable during tleather jackethe day when the sun is beating down on you, but you need to be cozy in the evenings.
In late August and early September, it's too early to be pulling out the parka you have stuffed in the back of your closet or even the cute plaid scarves you collect for fall inspired photoshoots. You need the perfect combination of cool and cozy to make the summer to fall transition smooth, effortless, and of course, stylish.
Jeans
Yes, I know, jeans are a staple all year round, but I couldn't write this post without at least an honorable mention. Jeans are so versatile.
You can wear them with a cute flowy top and sandals in summer and in fall throw on some boots and a sweater and you've got the perfect seasonal look. This time of year is perfect for ripped mom jeans because they are not as tight-fitting at skinny jeans and let some air in so you aren't too hot, but still cover you enough to keep you warm in cooler temps.
Sneakers
Whether you prefer running shoes, vans, or tennis shoes, sneakers are the best footwear all around. They can dress down something fancy and are super comfy which makes them ideal for just about all situations. I personally think simple white Keds are the way to go as long as you can keep them clean through all your summer adventures and fall apple picking escapades.
Crop tops
You might initially think crop tops are purely for summer, but when you have a piece of clothing that is small you can always add onto it. Yes, crop tops are ideal for warm weather and jean shorts, but add on a sweater and wide-leg trousers and you have a whole new look for a whole new season. Simply by styling crop tops with any other high-waisted bottom, you can take them into all seasons.
Leather jackets
A leather jacket is a staple in fall. It keeps you warm, looks edgy and cool, but isn't too thick. You can toss one over a sweater on cooler days or even add a scarf if need be. But just because it's summer, it doesn't mean you have to put your leather jacket into storage. Whip it out at night when you're wearing a mini dress or tank top. It is always cold in restaurants and in malls during summer because they crank the AC up so high so it'll help there as well. Even though it may be too hot outside, your leather jacket can be the perfect addition for places that are just way too chilly.
T-shirts
Ahh.. t-shirts are the golden staple of all closets. You can wear them around the house with sweats or dress them up with skirts and heels for a fancy party look. And of course, you can tie them into a crop top with jean shorts in summer and tuck them into pants in the fall. Top a bright colored t-shirt with a neutral blazer or cardigan for just a touch of color and you can rock your favorite summer tee until Christmas.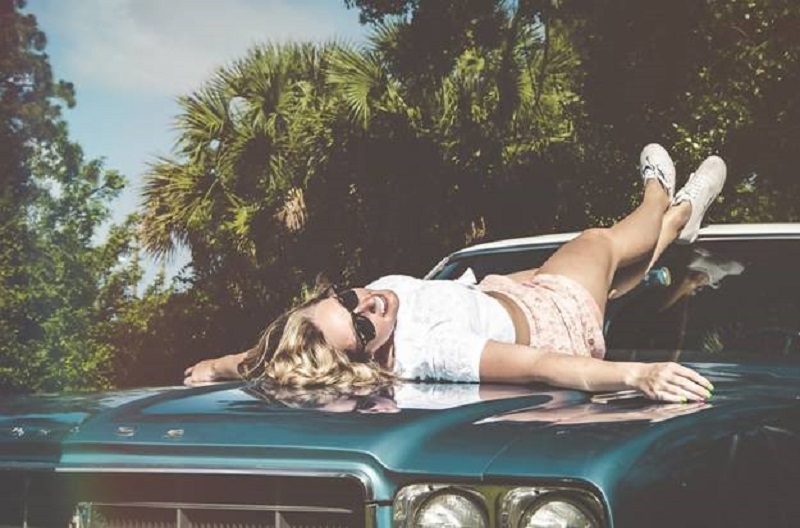 Booties
Some people think booties are only a fall fashion staple, but I beg to differ. Booties are super comfortable and easy to walk in. Instead of reaching for your unsupportive flip flops pull out your favorite fall booties next time you think your summer outfit is too basic.
They can jazz up an outfit or even add an edgy splash. And they don't just have to go with jeans or tights. Booties are the perfect way to balance out a flowy summer dress or add a pop of color or shine to a more drab outfit all summer long.
Flowy dresses
Flowy dresses are the best for summer. They breathe well and keep you cool while keeping you looking cool. They flatter your figure no matter what that is and are just so feminine and cute. You might think you have to store them away when the temperature drops, but you can make them work well into colder days. Throw on a jean or leather jacket, maybe some tights, or some knee-high boots, and you have yourself a fun and comfortable fall look too.
If you struggle to find the perfect outfits to take your style from hot and steamy to cozy and warm these fashion staples should help you find that multi-seasonal balance just in time for the changing seasons.