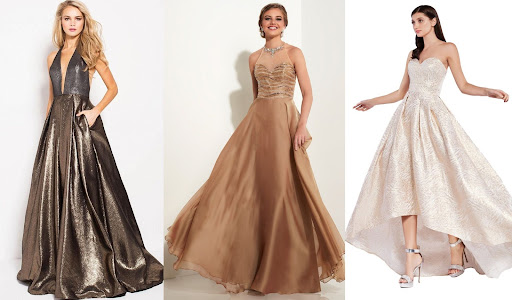 One of the hot trends at red carpets and fashion shows, GOLD DRESSES, stands out in the crowd like nothing else. At present, they are at the mainstay of the buzz! Believe it or not but gold dresses have already made their place in the hearts of ordinary fashionistas. After all, they are a fancy option for special galas like prom. 
Unlike usual outfits, gold prom dresses effortlessly add glitz and glam to your fashion statement, making you the showstopper of the night. However, the only problem with gold dresses for prom is that they can be a little tricky to wear and accessorize. But fret not; this time, we won't let you compromise on your chance to shine as we have covered all the essential tips, tricks, and details. 
Here is everything you need to know –

What Accessories Go With Gold Yellow Dress?
Yellow is the most common tone you will find when shopping for gold prom dresses on sale online. As it is quite vibrant, it goes well with cool tones such as blue or green gemstones. Besides, you can also get your hands on elegant pearls or a simple diamond necklace to revamp your prom fashion statement to OTT.
What Color In Shoes Matches Gold Dress?
The most flattering choice for a gold formal dress is none other than back shoes. They work best if your dress is deep, darker shade of gold or bronze. Nevertheless, this is not just it! You can also marry your gold evening gown with beige, blush, or bright white shoes to steal the limelight. Although, they will be less contrasting than black shoes.
Which Lip Shade Suits Best With Gold Dress?
The answer depends on your mood! If you are up for creating a playful, celebrity style statement, nothing works better than bold red or maroon lipstick. On the other hand, nude lips with a bright gold evening gown are also perfect if you want to keep it minimal. 
What To Wear With A Rose Gold Dress?
Other than the yellowish tone, you also have the option to pull off the ravishing rose gold evening gown at a big night like prom. If your rose gold dress/gown is subtle, you can complement it with a shiny choker to make a splash.
Speaking of shoes, gold ankle strap open toe heels are best to create an eye-feasting look in a rose gold prom outfit.
How To Accessorize A Glittering Gold Sequin Dress?
Gold special occasion dresses with sequin details are all in rage. So, if you are planning to doll up all sparkly in 'ONE' for your most-awaited prom night, you are making the right choice! The best way to accessorize is to wear a simple pearl choker, plain hoop earrings or pearl stud. Additionally, keep the makeup subtle to balance the shine of sequin.
There you go! With all the basic details (mentioned above), you are now ready to throw sass in a glamorous gold prom dress of your choice. So, what are you waiting for? Start shopping now to wow the crowd!