There is a common saying that "Beauty lies in the eyes of the beholder", and if your eyes behold the perfect toned lens, you can the beauty of nature and your ambiance.
In today's fashion world, even having eyewear coordinated with attire is a new trend. Why cover your eyes with sunglasses instead of showing your natural optical beauty with the perfect contact lenses?
Let's look at which contact lenses suit your skin tone.
Fair Skin Wonders
If you're fair-skinned, finding the right tone for contact lenses will like to be a tricky thing. You will find that almost every color is suitable for your skin tone.  Hence, you need to select the right pair of lenses by the occasions, events, and times of the day or even special moments as certain colors add to your glam in certain instances. Hence, you can just get a list of suitable colors according to your priorities:
Grey: Grey would be the perfect color for an evening walk after some drizzles. It's the perfect mixture of vague, intriguing, and charming look.
Blue: Blue is a match made in heaven for fair skin. You can wear it for afternoon gatherings, a big day at the office, or even pair it up with a sundress for some quality Sunday gossip time with the girls.
Turquoise: It is the perfect color that can be paired with ginger hair. And if it's autumn, you can adorn a pair of this shade and step out for the beautiful afternoon walks.
Purple: When there is any craziest underground party and you are in the utmost party look; this purple colored contact lenses can make you stand out in the crowd.
Medium Skin Tone
If you're an olive-toned beauty, the possibilities are endless. Your skin can hold both the lightest tones and the darkest shades. Your hair also adds as an added feature to this look by bringing out the colors of your lenses.
Honey: The honey caramel is suited best with the nutty skin tones. It might look similar to your face but the glimmer can bring out the glowing beauty of your eyes. Honey contact lenses work the best if you have jet black hair.
Dark Blue: Dark blue is all about the beach, sand, and sun. Being tan in color, all you need would be the star in the sand, i.e. to blend your beautiful eyes in blue coloured lenses to enjoy the beach waters. You can keep your hair free and let it fall on the face, contrasting the beautiful blue with tresses.
Green: Green eyes on olive skin tone would be the most exotic look on your face. The light green contacts on a sunny day can complement your olive skin tone without a second thought.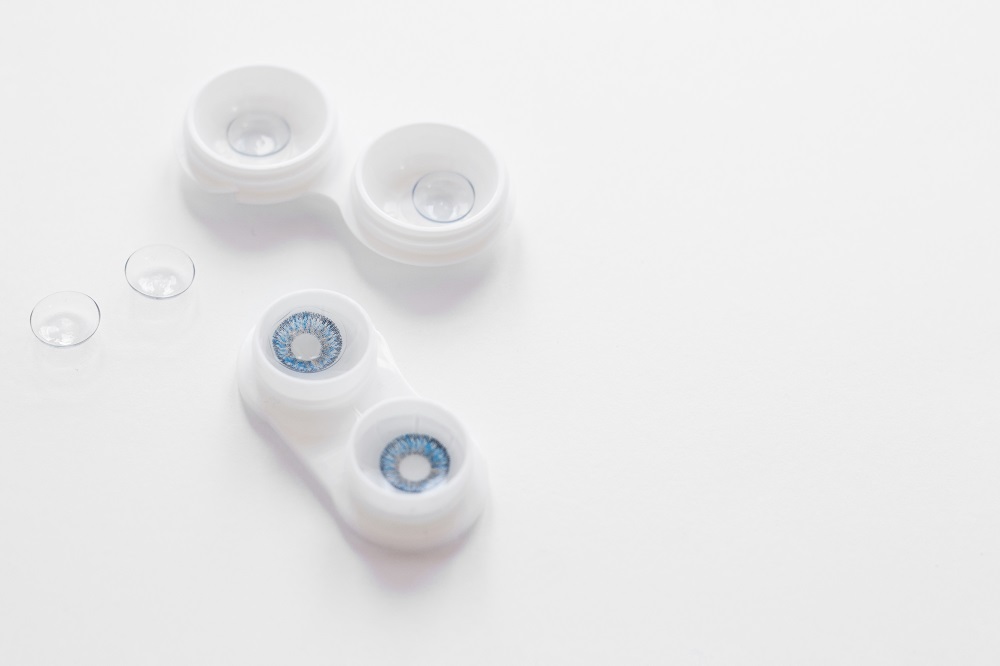 Darker Skin Tone
If you're a dusky dame, there is a varied range of color that would be perfect for your varied skin tone.
Green and Violet: For those with the dark chocolate brown skin tone, you can try out darker shades of green and even some violet to bring out your eyes.
Caramel and Light Blue: If you are blessed with moderate brownish or olive skin, a splash of light blue and deep caramel hues can make others skip a heartbeat.
Grey and Mossy: Mossy contact lenses would be the perfect shade for the light brown skin. They help in bringing out the glossy tone in contrast to the matte finish. Grey is for the time when you want to make a bold statement.
You can now choose from the above hues and be glam ready for any meets, photo-shoots, and or that much-anticipated special date. If you feel irritation while wearing lenses, stop using them immediately. Consult your optometrist before you start using them again.