Introduction-
As a yoga practitioner, you know the importance of a good yoga mat. It's the foundation of your practice, providing support, cushioning, and a non-slip surface. But with so many options available, how do you choose the best yoga mat for your needs? In this comprehensive guide, we'll explore the various factors to consider when selecting the perfect yoga mat, from material and thickness to size and eco-friendliness. So, let's dive in and find the ideal foundation for your practice.
1. Yoga Mat Materials: Understanding the Pros and Cons-
When it comes to yoga mat materials, there are several options to choose from, each with its own unique benefits and drawbacks. Here's a breakdown of the most common materials:
– PVC (Polyvinyl Chloride): PVC is the most common material used in yoga mats. It's durable, easy to clean, and provides excellent traction. However, it's not eco-friendly and may contain harmful chemicals.
– TPE (Thermoplastic Elastomers): TPE is a more environmentally friendly alternative to PVC. It's lightweight, recyclable, and offers good cushioning and traction. However, it may not be as durable as PVC.
– Natural Rubber: Natural rubber yoga mats are eco-friendly, biodegradable, and offer excellent cushioning and grip. However, they can be heavy and may have a strong rubber smell.
– Cork: Cork yoga mats are made from the bark of cork trees, making them a sustainable and eco-friendly option. They offer great grip, especially when wet, and are naturally antimicrobial. However, they may not provide as much cushioning as other materials.
– Jute: Jute is a natural, eco-friendly fibre that provides good traction and durability. However, it may not be as comfortable or cushioned as other materials.
2. Yoga Mat Thickness: Finding the Right Balance-
Yoga mat thickness plays a crucial role in your practice, affecting your comfort and stability. Here are some general guidelines to help you choose the right thickness:
– 1/16-inch (1-2mm): These ultra-thin mats are perfect for travel or for yogis who prefer a closer connection to the ground. However, they provide minimal cushioning.
– 1/8-inch (3-4mm): This is the standard thickness for most yoga mats, providing a good balance between cushioning and stability.
– 1/4-inch (6-7mm): Thicker mats offer more cushioning for sensitive joints but may be less stable for balancing poses.
– 1/2-inch (12-15mm): These extra-thick mats are best for restorative or therapeutic yoga practices but may be too unstable for regular practice.
3. Size Matters: Choosing the Perfect Yoga Mat Dimensions-
Standard yoga mats are typically 24 inches wide and 68-72 inches long. However, you may need a wider or longer mat depending on your height or practice style. Taller individuals may prefer a longer mat (74-84 inches), while those practicing more dynamic styles of yoga may benefit from a wider mat (30-36 inches).
4. Eco-Friendly Yoga Mats: Sustainable Options for the Conscious Yogi-
As awareness of environmental issues grows, many yogis are seeking eco-friendly yoga mats that minimize their impact on the planet. Look for mats made from natural, biodegradable materials like natural rubber, cork, or jute. Additionally, consider mats that are free from toxic chemicals and have responsible manufacturing processes.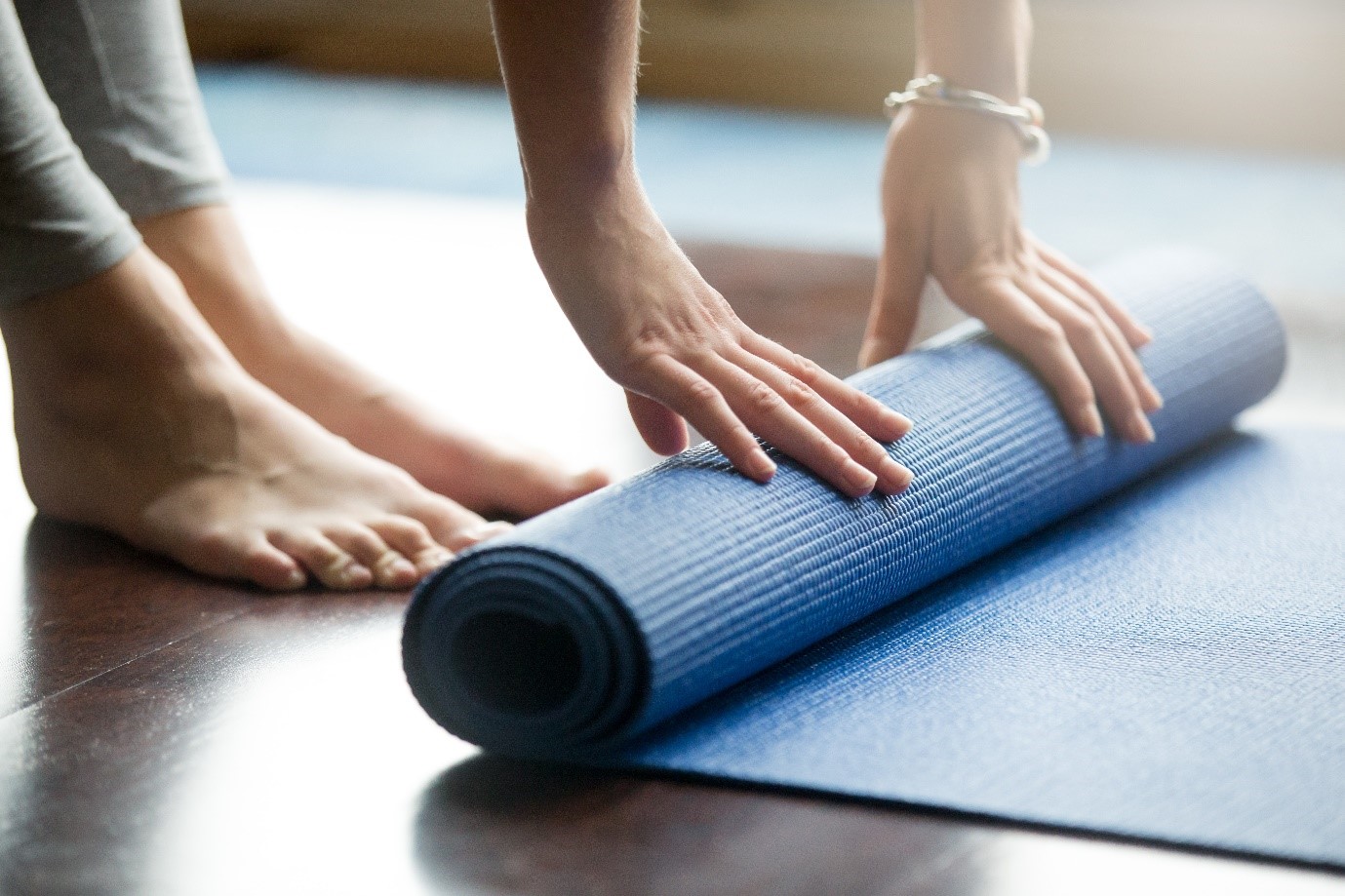 5. Non-Slip Yoga Mats: Ensuring Stability and Safety-
A non-slip yoga mat is essential for maintaining stability and safety during your practice. Look for mats with a textured surface or a sticky grip to prevent slipping. Keep in mind that some materials, like cork, become grippier when wet, making them ideal for hot yoga or sweaty practices.
6. Travel Yoga Mats: Portable Solutions for the On-the-Go Practitioner-
If you're a frequent traveller or simply want a mat that's easy to transport, consider a travel yoga mat. These lightweight, foldable mats are typically thinner (1-2mm) and can easily fit in your luggage or backpack. Just be aware that they may not provide as much cushioning as a standard mat.
7. Caring for Your Yoga Mat: Proper Maintenance and Cleaning-
Proper care and maintenance can extend the life of your yoga mat and keep it fresh and clean. Follow the manufacturer's instructions for cleaning, which may include wiping it down with a damp cloth, using a gentle cleanser, or machine washing. Allow your mat to air dry completely before rolling it up to prevent mold and mildew.
8. Yoga Mat Reviews: Finding the Best Yoga Mats for Your Practice-
With so many options available, it's essential to read yoga mat reviews to find the best mat for your needs. Look for reviews from reputable sources and fellow yogis to get a sense of the mat's durability, comfort, and performance. Ultimately, the best yoga mat for you will depend on your personal preferences and practice style.
Conclusion-
Choosing the perfect yoga mat is a personal decision that depends on factors like material, thickness, size, and eco-friendliness. By considering these factors and reading yoga mat reviews, you can find the ideal foundation for your practice. Remember, a high-quality yoga mat can enhance your practice, providing the support, cushioning, and stability you need to fully immerse yourself in your yoga journey.