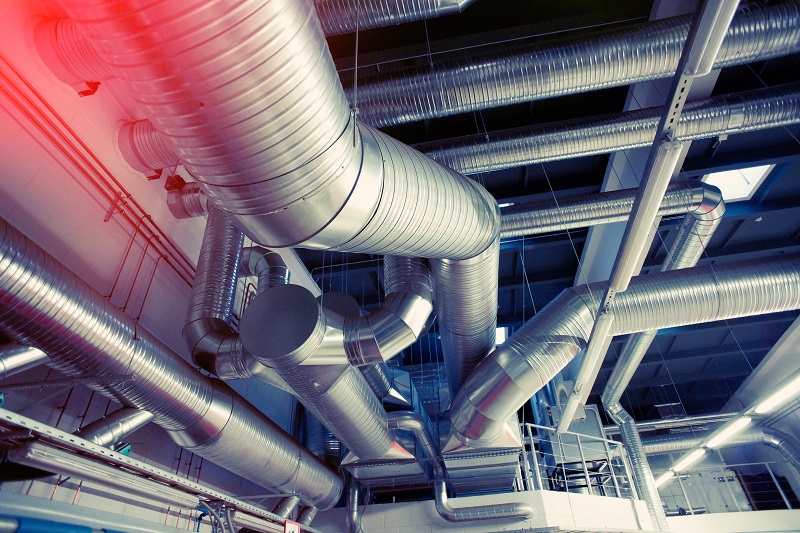 What is ducting? This is the most important question here. It is a continuous sequence of canals, tubes, and pipes that are designed for specific purposes like delivering air for ventilation, heating, and cooling. The purposes could also be channeling dust, fumes, or abrasive materials from one point to another without causing disturbance to the environment. But there are industry experts and retailers who consider ducting to be solely used to channel fumes or materials and according to them when you want to channel liquids they are referred to as piping.
Whatever purpose they solve, flexible ducts are widely used ducts that can be bent and changed at any angle to fit in different places and to serve different purposes. So, flexible ducting supplies are very much industry-friendly materials that you can use.
What Comprises the Flexible Ducting Supplies?
When you talk about flexible ducting supplies there are quite a few things that will add up to this list. This list includes the names-
Flexible pipes
Extraction hose
Hose clips
Exhaust valves
Nylon wall plugs
Wire ropes
Wire with carbine
Shield anchors
Duct wrap
Types of Ducts:
There are two types of ducts namely the passive and the active ducts.
 1. Passive ducts:
In the passive duct, there is no forced movement of air rather it moves naturally to make ventilation with the force of gravity. It is used in the transportation of light materials and abrasives. So, the passiveflexible ducting supplies serve efficient work and easy holding as they are light.
 2. Active ducts:
In active ducting, you need heavy-duty flexible ducting supplies because heavy-duty items are used to force the air out making ventilation possible.
Materials of Flexible Ducting Supplies:
The most popular materials used in the making of flexible ducting supplies are rubber, polyurethane, PVC, silicon, and neoprene-dipped polyester fabric. Each of them has its benefits and properties that make them suitable for the very purpose that they are being used for.
Some flexible ducting supplies are also made from aluminum laminated coatings. Sometimes spring steel wire helixes are also used. These products are very flexible with high durability. They also help with energy conservation. Some of these supplies are also insulated with anti-bacterial shielding to help prevent the growth of bacteria and fungus making the environment safe.
Circumstances under Which These Supplies Are Used:
The materials from which the flexible ducting supplies are made up can't withstand all temperature conditions. So, you must specifically know for what purpose your ducting is going to be used. That will be the deciding factor for your flexible ducting supplies materials.
Say, for instance, rubber, neoprene-dipped polyester, stainless steel, and silicon are best suited for very extreme temperatures of any extremes. They can withstand both high heat and low temperatures making them an ideal choice for such conditions. Their lifespan is also ensured. So, if you require your flexible ducting supplies for abrasives then you must select items that are manufactured from rubber and polyurethane. On the other hand, for air systems, PVC is good enough.
Criteria for Selecting Your Flexible Ducting Supplies:
Your project and the circumstance in which they will be used are the determining factors when choosing your flexible ducting supplies. Here are a few factors that you must consider while buying your ducting supplies:
When choosing the material, remember the environment and condition it is going to be used. Choose wisely. Your application, location, air temperature, and pressure are things to be considered when selecting the material.
The diameter is important to consider because the airflow and velocity that your pipe will undergo are dependent on it. So, in flexible ducting supplies, the diameter is an important consideration. If you have the right diameter, then airflow will be balanced. Oversized and undersized diameters are of no help as they disturb the efficiency of your system.
Length and pitch are also important considering factors. Flexible pipes have the advantage of being compressed but, are very long. Pitch is also another factor to consider.
Bonding and finishing are very important as far as flexible ducting supplies are concerned. If the bonding is not done perfectly then you are in trouble and the material of the supplies also plays an important role in bonding and finishing. The finish is equally important.
Conclusion:
If all the above factors are taken into consideration with equal weightage, then there is no way that you will not get the best flexible ducting supplies from the vast market.