Do you wish to have more plump lips? Or, do you have asymmetric lips that become the most concerning point on your face? If yes then, lip fillers treatment is the right option for you. Having fuller lips is also a sign of beauty nowadays. Therefore, lip fillers treatment facilitates you to go with the modern definition of beauty.
Getting lip fillers has become easy for people, thanks to medical advances. Even if you are eager to get it, you should understand the complete procedure of lip filling. Besides, this non-surgical treatment is completely safe and affordable which makes it accessible to people.
You may easily achieve the ideal lip these days, but you should first understand how filler treatment works. Here is the list of the benefits to know before you call an esthetician:
1. Provides Natural Fullness: The next benefit is that lip filler is a permanent solution to make your lips full, unlike temporary dermal fillers. It uses natural ingredients such as hyaluronic acid. The results of lip filler treatment will be visible after 6-8 months. The lip-filling ingredient can easily be absorbed with time. It also means that you can take any number of fillers based on your preference.
2. Remove Asymmetrical Facial Structure: Some people are born with asymmetrical facial features that make them unhappy and under-confident. Lip fillers help you remove them and gain confidence. Lip fillers treatment can give you a symmetrical appearance and enhance your beauty. If necessary, you might utilize the filler treatment to rectify asymmetries in the following regions.
Cupid's bow
Vermillion border
Perioral lines
Marionette lines
Fleshy lips
3. Keep Lips More Hydrated: Having chapped lips means you always need to keep your lips hydrated. But, after the lip injection treatment, you don't need to do it anymore. You may have learned that lip fillers contain hyaluronic acid. Thus, it works as a natural sugar present in the human body and attracts water molecules more naturally. So, it is a good way to keep your lips hydrated and fuller. You don't need to spend on lip gloss or moisturizer for hydration.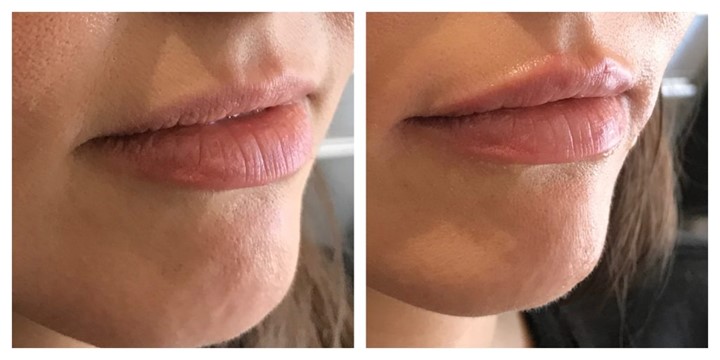 4. Enhance Facial Harmony: Now, you understand that filling lips is not only for lips but also improves your facial structure and reduces premature wrinkles. For these reasons, people want fuller lips to achieve better facial harmony after using fillers. Lip filler treatments can increase lip volume effectively.
5. Make You Look Younger: Some of the main benefits of getting lip fillers are that they can help to slow down the aging process for both men and women. It is natural to develop lines and wrinkles around our lips as we age. Lip filling therapy helps to restore hyaluronic acid levels. The main reasons why we get wrinkles are because of a decrease in natural hyaluronic acid production and reduced collagen levels. It is also responsible for keeping our skin looking young. Lip fillers can immediately improve the production of hyaluronic acid and natural collagen, which can help make you look younger.
6. No Side Effects: The biggest concern of people about lip filler treatments are the side effects. The good news is that hyaluronic acid fillers cause no allergic reactions or side effects. It is rare to have any side effects from this procedure. Still, individuals need to discuss any medical condition or allergies before going for filling. The doctor will do a physical examination of your lips. It will help them determine the right type and amount of filler to use. After that, they will inject the filler into your lips using a very thin needle. It can prevent any side effects after or during the lip-filling procedure.
7. Fast Recovery: Filling your lips is generally a popular cosmetic procedure. It takes only 15 minutes to fill your lips with natural ingredients. Because of the significant impact fillers can have on a person's appearance as well as their self-esteem, there's a solid reason to consider them before other cosmetic surgery choices.
In Conclusion:
Lip filler treatment is the safest way to increase the volume of lips effectively. Compared to other cosmetic procedures, it requires less effort and money to do, and it is almost painless too. It is faster to recover and helps you get a beautiful smile that improves your self-confidence. Consult with the best experts who are experienced enough to offer stunning results.