If you've heard of Hamptons before, it's a townships' group on the Long Island in New York. The townships in the group include Southampton, Sag Harbor and Montauk which remained isolated fishing and farming settlements until late 19th century where homes were built with top quality materials for withstanding the rugged location. As the wealth was created in these areas, they transformed into gorgeous residences which embraced easy and coastal living style that we love today.
So, if you want to bring the Hamptons style to your interiors, here we have 10 key elements that are going to help you create the desired look in the interiors.
Natural Textures
It's time to warm up those plain walls and the timber floors in your interiors with some sisal rugs, classic art pieces, wicker furniture and some carefully chosen house wares in some signature colors like soft green, whites, creams and teal. Layer it up with natural textures like linens, rattan and jute.
Amazing Wainscoting
For creating Hamptons style interiors, you can introduce a bit of east-coast style through timber moldings all along your staircases and hallways. You must integrate the detailed trims like architraves, skirtings, and cornices. There is variety of inlay moulds available in the market as well as skirting boards designed for bringing that typical Hamptons style in your home. A HardieGroove lining would be a perfect choice to inject that casual and coastal vibe into your interiors.
Window Seats
Just imagine those long and lazy afternoons where you'd like to stretch out reading the weekend newspaper or just scrolling through the content on your iPad. Window seats make a top feature in your Hamptons style interiors as they are just tailored perfectly to allow you to spend some time relaxing. It would be ideal to include some storage space underneath the window seat and make sure that you pick some outdoor/indoor fabric for the cushion covers.
Beautiful Lighting
In case, if you don't have the luxury of natural light coming into your home, you should think of creating the illusion. It would be a great choice to add some additional lighting wherever possible. For instance, you can go with wall lighting in the bathrooms, living areas, kitchens and the powder rooms. You can also mount wall sconces around the mirrors for adding some traditional charm to your space.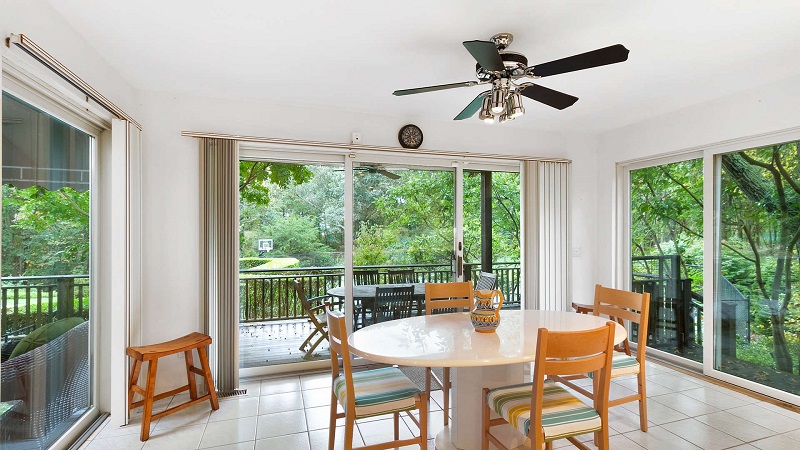 Shaker-Style Cabinetry
Classic cabinetry always makes for an essential element in Hamptons style interiors regardless of whether you're considering ideas for your bedroom, bathroom or kitchen. Such interiors not just look modern but they have some timeless, classic vibe to them as well. It is a great idea to go with shaker-style cabinetry that features beautiful handles.
Elegant Exteriors
Maintaining a curb appeal would be equally important as the interior scheme of your Hamptons style home. Add some grandeur to the porches as well as the verandahs through architectural features like columns, fretwork, and gables.
Quality Materials
Hardy materials like marble turn out to be key in giving your home's interiors the desired Hamptons style. During 1600s, the Hamptons homes had lasting materials which used to withstand the routine wear and tear. You can add an element of luxury to that with marble side tables or benchtops.
Chic Furniture For The Outdoors
You must create perfect flow between your indoors and outdoors with the help of consistent color and design choices. Make sure that the outdoor furniture is in same color and style as you have indoors. A classic choice would be to go with wicker settings that have grey, blue or white cushions.
Graceful Greenery
After tending to the home's exterior, make sure that you pay some attention to your garden space as well. Some tidy hedges, planter boxes full of lush hydrangeas, and a perfectly manicured lawn would make for a great appearance. In fact, your Hamptons home won't be complete without some greenery added to its exterior.
Clever Cladding
The Hamptons homes are known for weatherboard cladding and shingles that have symmetrical small-pane windows. You must choose right cladding because it will give you a way of achieving a chic look inside out. Your Hamptons home would be incomplete without those shadow lines and the use of shingles can be a great way of doing that.
So, what are you waiting for then? Get your home a perfect Hamptons style look not only on the outside but also in the interiors. Just implement the tips given above and you're sure to come up with something really amazing and appealing.